Hiring Process Steps to Improve Recruiting Efforts
A smart recruitment and hiring process can speed up your time-to-hire, identify talent needs proactively and ensure you get the best people at the most optimal cost.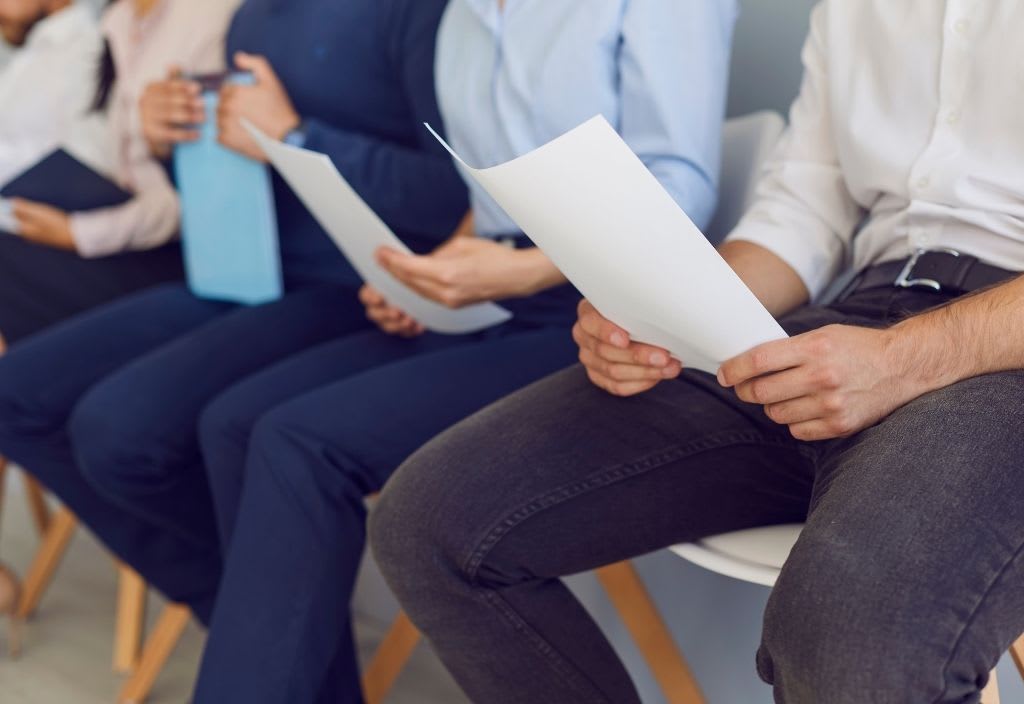 Hiring process steps are expensive, and it is not just about the salary a new candidate get. From setting up the initial advertisements for the job to the time spent by recruiters on screening resumes and holding interviews to the cost of training the candidate after they join, the bills rack up fast.
Besides, small businesses ended up spending $1500 per employee on training alone. For this reason, many companies hesitate to start the hiring process even if they need someone, especially ones that are strapped for cash.
Moreover, only a 1/3rd of companies in the US monitor their recruitment practices. While it may seem paradoxical, the expensiveness of the hiring process is precisely why you need to have a structure in place.
Done right, a smart hiring process can speed up your time-to-hire, identify talent needs proactively and ensure you get the best people at the most optimal cost without compromising on appropriate pay. But before we explore what goes into a great hiring process, let us first understand what it means.
What do you mean by "hiring process?"
Hiring process is a step-by-step method that companies follow to identify job requirements, source suitable talent, and select the best person for the job. Every company has its unique process depending on what its needs are and what the growth trajectory is like.
However, the overall structure of sourcing, assessing, interviewing, verifying, and onboarding is the same. The best hiring processes are proactive in that they keep a finger on the pulse of organizational needs and start the talent search well before the need becomes urgent.
Why hiring process is important?
Trying to hire people on an ad hoc basis as and when needs arise is inefficient. A good hiring process has a single concrete structure, a defined recruitment team, and time-tested strategies to pick the best talent. An optimal hiring process can:
Considerably reduce the time spent per hire
Significantly reduce the risk of an unsuitable hire
Enhance the flow of candidates while maintaining quality
Eliminate chaos and guesswork from the recruiting process
Enhance employer reputation as a top-notch recruiter, attracting more talent
Provide a seamless recruitment experience to candidates, improving relations with them
Over time, a hiring process brings about tactical benefits regarding the quality of talent acquired and the advantage gained over the competition.
Important hiring process steps
Having a system in place can make any activity more efficient, and this is especially true when it comes to recruiting new employees.
A precise, results-oriented recruitment process can help you attract top talent, narrow down suitable candidates much sooner and build transparent relationships with them.
Whether you are a multinational company or an up-and-coming small business, here are nine steps to follow in your next recruitment and candidate selection drive.
1. Identify your needs
Most recruiters launch the hiring process to fill up an immediate requirement or to replace resources who have left.
Ideally, however, the hiring process should track the evolving needs of the organization and spot talent gaps in advance of people actually leaving or urgent needs cropping up.
By regularly meeting up with team managers and assessing team performances for gaps, you can develop a proactive hiring approach that helps meet periodic team goals.
2. Have a clear job description
A big part of filling a talent requirement before it becomes an urgent need is having a clear, comprehensive description of what the job entails. This helps you attract the most suitable applications and illustrates to the applicants what is expected of them.
Your job description should convey the essential elements:
The job title
The company name
Location and seniority
The expected joining date
The responsibilities expected
The 'must-have' qualifications
The compensation and benefits involved
The minimum qualifications (both academic and professional)
Phrase the job description in clear language with specific points. Keywords matter, so avoid using any jargon and only use simple words that define who you are looking for to optimize your recruitment and selection process.
3. Search for the right talent
There are two main sources of talent that recruiters tap — internal, to attract those already within the company and looking for a change, and external, via job boards, sites like LinkedIn, and recruitment fairs.
For internal recruiting, you can contact candidates from other teams, those up for a promotion, those currently on an internship/part-time basis, employee referrals, and even previously waitlisted candidates.
For external recruiting, campus placements, professional management bodies, hiring portals, and public job fairs are all good ways to connect with talented and interested candidates.
In addition, you can hire a placement agency to undertake the scouting and screening process for hiring if your budget permits it.
4. Screen resumes effectively
Depending on how successfully your talent sourcing campaign goes, you could attract a deluge of applicants.
A large fraction of these would not be suitable for the role, so you need to have an effective way to screen resumes for obvious mismatches and prioritize those who meet both the minimum and nice-to-have criteria.
Manually doing this is impractical, so consider investing in a software solution that scans each resume for predetermined criteria and shortlists only the best matches.
If there are a large number of suitable matches, you can even send them pre-screening assignments to whittle down the list. This lets you decide quickly whom to proceed with for interview rounds.
5. Do a preliminary video interview
As a starting point to the recruitment process, consider doing a quick video interview. Remote interview processes save the trouble of commuting to an in-person meeting place — particularly during pandemic times when social distancing is the norm.
They also add a human touch to the process and present a good opportunity for you to present yourself as a brand and to lay out what you expect while also screening the candidate's skills and personality to see if they are a good fit.
6. Conduct pre-assessments
There are several standardized tests that you can use to narrow down your set of shortlisted candidates. These assess the candidates on various fronts, including verbal reasoning, analytical abilities, numerical skills, creative thinking, emotional intelligence, personality profile, and many others.
Choose tests based on the job requirement. For instance, a sales role might call for a situational sales test where the candidate tries to sell you something. In contrast, a coding role will call for a coding test of knowledge about programming languages and analytical abilities.
Regardless of role, however, try to include a psychometric component, as this will assess the candidate's behavioral and personality traits and show you how well they will fit into your company culture.
These are not perfect indicators of fitment, of course, but they do provide strong general indicators that you can then substantiate during the actual interview.
Please communicate the test requirements clearly and allow candidates enough time to complete them to the best of their ability. For pre-hire assessments, use a tool like Adaface which helps conduct various tests.
7. Have a smooth interview process
When candidates make it to the face-to-face interview round, ensure that the experience is as seamless and to the point as possible. Prepare questions specific to the job and what the candidate can bring to the table, rather than abstract generalizations.
During the interview process, dive deep into the candidate's past experiences and accomplishments, ask them how they would respond to various job-related situations, and quiz them on what they plan to do when they first join.
You should also remember that the candidate is evaluating you just as much as you are. Present your company's vision, work culture, and job expectations as clearly and compellingly as possible, and be open to any questions the candidate may have.
When you reach the end of the interview process steps, discuss salary expectations, location, and remote work, especially during pandemic times when many expect to work from home indefinitely.
8. Make your decisions quickly
After all the interviews are conducted, you will likely have a good idea of who to pick for the job. All that is left now is to screen their background information for discrepancies or gray areas, evaluate any test scores and decide upon an appropriate salary bracket.
If it is a close call between two or three people, quickly schedule discussions with the relevant team manager and other stakeholders to reach a consensus.
Keep in mind that talented candidates will be applying to other jobs simultaneously. Therefore, taking a call quickly is the best hiring practice so you would not want to lose them to companies who make an offer sooner.
Have a couple of backup candidates selected as well in case your top choice declines the offer. At the same time, remember to send out rejection notes promptly so that no one is kept waiting unnecessarily.
If you are unable to decide on suitable candidates at the end of the process, consult with the rest of the team on whether you want to restart the process — and if so, whether things need to be done differently this time to select better.
9. Present a compelling offer
Once you have completed the hiring process and screened the candidates' background information, you should make a final offer to them as soon as possible.
The offer letter should lay out details like salary and benefits, location and start date, leave policy, legal formalities, and onboarding requirements to keep things transparent.
Ensure that paperwork takes as little time as possible — if it does take a while, inform the candidate of the offer by call or email so that you can commit to each other.
Budget some time for negotiations on salary or work flexibility, and try to reach a decision as soon as possible. If your discussions during the interview have been frank enough, this should not take too long.
How to improve your hiring process
Research shows that 82% of companies today use some form of assessment tool during hiring. This way, they can hire strictly based on suitability rather than anything else and attract a broader pool of talented candidates who may otherwise have been missed out on.
Through this process, the person ultimately chosen for the role will be the most suitable in terms of aptitude and attitude to work for your company.
Adaface is the most candidate-friendly skills assessment tool on the market that companies love using to find qualified candidates faster. Here is what it can do for you:
1. Prevents resume frauds
A large fraction of the resumes that a recruiter gets in response to a job opening are either entirely unsuited for the requirements or contain fraudulent information.
Manually screening each resume for inaccuracies or red flags is a tedious task, and mistakes often end up slipping past anyway. By contrast, Adaface offers custom screening tools that make the process efficient and scalable, reducing the candidate screening time by over 80%.
2. Avoids trick questions
Many companies assess their candidate's skills with trick questions or out-of-the-box puzzles that are not necessarily relevant to on-the-job work.
This not only detracts from testing job-specific skills but can also be disadvantageous to those from self-taught backgrounds rather than formal education.
Adaface works instead to provide specific and relevant assessments that test the candidate's suitability for daily job roles, without biases of any kind.
3. Reduces time-to-hire
Many companies have recruitment processes with six to ten steps, starting from initial resume shortlisting to final interview rounds.
Often, these steps are not organized properly, with essential skill deficiencies frequently coming out only at later stages, by which time considerable effort has already been devoted to the candidate.
With Adaface, companies can benefit from a structured hiring process based on progressive elimination, where those with clear skill or personality mismatches are eliminated at each step.
4. Provides a friendlier candidate experience
Candidates often lose motivation during the hiring process because of long, tedious assessment rounds with little to no assistance.
With Adaface, each assessment involves an interaction with the intelligent chatbot Ada, who walks each candidate through each step, helps them out as needed, and accurately gauges their skill level while keeping things friendly.
Moreover, each assessment is kept to within 45 and 60 minutes and involves straightforward skill-based questions without tricks or puzzles.
5. Removes unconscious bias
Often, following traditional hiring process steps result in weeding out talented candidates from diverse backgrounds without accurately assessing their skills.
The Adaface assessments are background-blind, which means that they test on ability alone without regard to where the candidate studied or where they worked before.
This also helps to eliminate biases based on race, gender, nationality, or other irrelevant factors, allowing for a more diverse pool of talent to come in.
6. Uses custom assessments for accurate screening
Adaface believes in a custom approach for every job, every designation, and every skill set. Their test library focuses on over 700 technical skills and features questions designed by subject matter experts specifically to aid recruitment.
There are no one-size-fits-all processes and no generic questions that candidates can Google and answer, and strong anti-cheating measures are implemented in each test. This way, companies can benefit from the best available talent for each job they offer.
Over to you
A detailed recruitment and selection process is an essential element for organizational success. Devising and deploying a consistent hiring plan will help optimize the ability to identify the strongest candidate while also clearly understanding your hiring process.