Skills-Based Hiring Statistics
Long gone are the days of degree-based hiring. Companies now want skilled people - with or without a degree. Here are the top skills-based hiring statistics: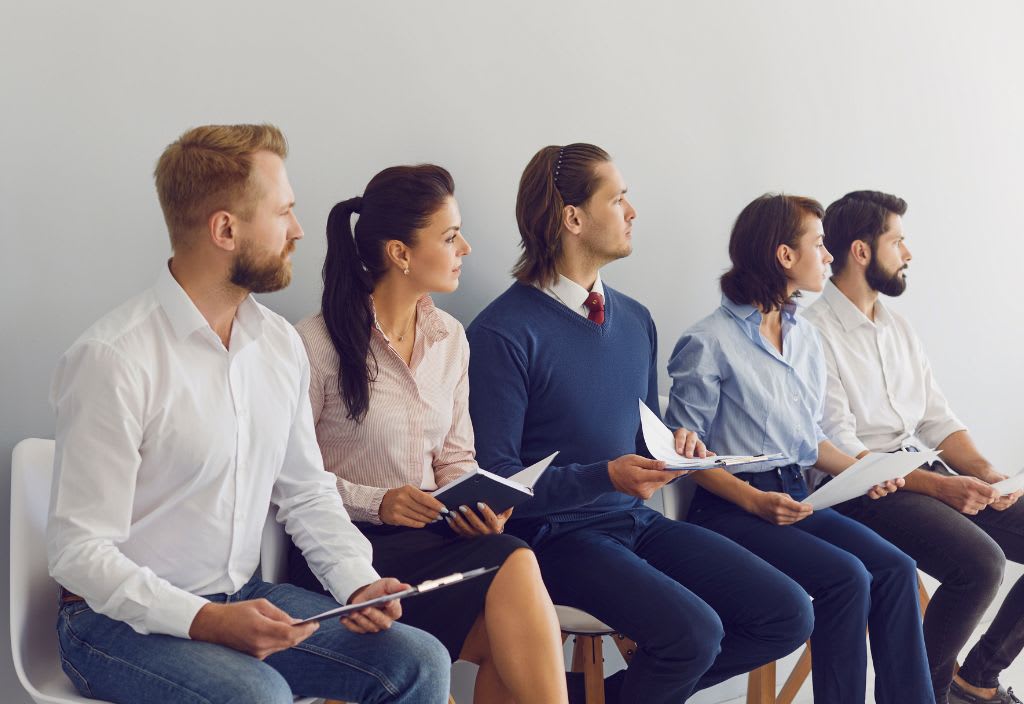 It was the 2000s when many employers started adding degree requirements to descriptions of job roles that previously did not require degrees. This phenomenon became known as "degree inflation," which gained prominence during the Great Recession of 2008-2009. At this point, companies, community-based organizations, and the government realized a reset was in order.
Education or degree-based requirements in hiring took a back seat, and skills-based hiring entered the picture. As the name suggests, skills-based hiring refers to the process of hiring individuals that meet specific skill or competency requirements or targets.
These skills can be cognitive, technical, physical, or soft, depending on the job's role. The idea behind skills-based hiring is to ensure all job candidates have precisely what it takes to perform the daily requirements of the job.
Top skills-based hiring statistics
An Accenture study shows that companies that follow this recruitment practice experience a 1% to 2% increase in revenue for every 10% increase in intersectional gender equity. Acquiring industry-relevant skills has become the new degree equivalent.
The shift in mindset has caused most hiring managers to become careful about recognizing critical job skills and properly "vetting in" talent by validating their skills. So, how is skills-based hiring faring in this day and age? Perhaps the following skills-based hiring statistics will give you an idea:
Job seeker demands and expectations
The pandemic upended traditional conventions about when, how, and where people work, resulting in significant shifts in how talent acquisition is approached, including the growing reliance on virtual technologies. However, the pandemic has also caused a change in job seeker behaviors and expectations.
1. Seventy percent of candidates are passive job seekers. (LinkedIn)

2. Half of the professionals (50%) in need of a job will not work for a company with a bad reputation, even if the salary is high. (HR Daily Advisor)

3. Job seekers, especially in in-demand fields such as technology. are willing to sacrifice up to 12.4% of their salary for training and flexibility. (PwC)

4. Nearly nine out of ten employees evaluate a brand before applying for a job with them. (CareerArc)

5. Rejected applicants who do not receive any feedback are twice as likely not to apply or do business with the company again. Candidate communication is paramount. (The Talent Board)

6. Eighty-seven percent of professionals see skills gaps in their company. Surprisingly, only 1-3rd of companies are prepared to cope with the workforce disruptions resulting from technology and market trends. (McKinsey)
Pre-employment skill assessments
Pre-employment assessments have become an integral part of the hiring process as they offer a standardized way of fetching data about a candidate's skill set.

From programming, data science, and IT to DevOps, finance, and marketing - candidates can be tested on several on-the-job skills. This system helps determine which applicants are qualified for a particular role and prioritizes them for the next round in the recruitment funnel:

1. 64% of companies agree that skills testing initiates faster candidate screening, but only 40% have invested in a screening tool to manage high numbers of applicants. (Toggl)

2. Pre-employment assessments are becoming popular, with 82% of companies using some form of the pre-employment assessment test. (Talent Board)

3. Recruiting managers who use assessments in their hiring process report 36% higher satisfaction with their final decision than those who do not. (Aberdeen)

4. Up to 78% of applicants misrepresent themselves in their resumes, and 66% of hiring managers are willing to accept lapses in ethics. (Checkster)

5. Each job posting receives 250 resumes on average. Of those, 4-6 are called for an interview, and one bags the job offer. (Glassdoor)

6. Companies using pre-employment skills assessments report a 39% lower turnover. (Aberdeen Strategy and Research)

7. Thirty-five percent of recruiters believe soft skills assessment will shape recruitment in the next decade. (LinkedIn)

8. Skill gaps are a genuine problem; 75% of HR professionals have had trouble recruiting in the past 12 months. (SHRM)
Job role-based hiring
In a professional setting, you want to ensure your candidates have the proper knowledge and proven experience that demonstrates they are capable of growing in a specific job role over time and fulfilling their responsibilities appropriately:
1. Blockchain, cloud computing, analytical reasoning, AI, affiliate marketing, and video production were the top 10 hard skills of 2020. (LinkedIn)

2. Hostesses, waiters, and other workers in the food sector demonstrate up to 71% of skills similar to customer service specialists. (LinkedIn)

3. Degree-holding professionals have a shorter retention period or short tenure at a company. (Harvard Business School)

4. In manufacturing, skill gaps risks lead to an estimated 2.4 million positions being unfilled by 2028. (Brookings)

5. Eight-seven percent of Americans are comfortable finding online services and programs for job search. (Pew Research)

6. Ninety-four percent of HR decision-makers have trouble finding qualified candidates, which impacts business growth. (KR 12 Inc.)

In jobs for intensive-care and critical-care nurses, the share of postings asking for a bachelor's degree has declined by 12%. (HBR)
Education backgrounds
During the course of skills-based hiring, the educational background and past work experiences of the candidates are bound to come up. So, what are the thoughts of professionals and companies about holding academic degrees? Let us find out:
1. Fifty percent of employers pay higher compensation to recent college graduates than non-degree holders with the same job. (Harvard Business School)

2. According to more than 40% of HR managers, entry-level positions are among the most difficult to fill when four-year college degrees hold much importance. (SHRM)

3. Apple, IBM, Google, Nordstrom, Publix, Bank of America, and other famous companies have removed bachelor's degree requirements from many of their job positions. (CNBC)

4. Sixty-three percent of business and HR leaders have trouble filling middle-skills jobs. (The Hechinger Report)

5. Employees with traditional four-year degrees stay 34% longer than those with such degrees. (LinkedIn)

6. Employers perceive degreed and non-degreed employees nearly or equally productive. (Harvard Business School)

7. Sixty percent of American workers - over 25 years - do not have a four-year college degree. (Opportunity@Work)

8. Americans in rural communities (81%), African Americans (76%), and LatinX workers (83%) automatically get screened out due to a four-year degree requirement. (Opportunity@Work)
Candidate sourcing
Finding quality talent for the right job is always tedious. Gen Zers and millennials tend to experiment with their careers, which means that companies have to up their game and leverage creative talent sourcing strategies if they want to attract and retain the best people for the job.
1. Only 31% of hires are proactively sourced. (Zoominfo)

2. The best performers are 4X as productive as average performers. (ERE)

3. The average time to recruit across a range of job functions is 41 days! (LinkedIn)

4. Sourced candidates are more than 2X as efficient as candidates who apply. (Lever)

5. Seventy-three percent of hiring managers plan to increase freelance hires. (Upwork)

6. Thirty-five applicants come to know about job openings through social media. (Jobvite)

7. The number one way professionals discover a new job is through referrals. (LinkedIn)

8. Ninety-five percent of hiring managers use LinkedIn to find candidates. (US News)

9. A smashing 48% of businesses agree their top-quality hires come from employee referrals.(LinkedIn)

10. One in every 72 sourced candidates is recruited compared to every one in 52 candidates applying to open job positions. (LinkedIn)
Employee referrals
Since employees network with other people in similar professional positions, it is easy to find candidates with the required skill set easily and quickly. Plus, those who refer are offered monetary and/or non-monetary employee referral incentives. Employee referral programs are cost-effective, speed up the sourcing process, and minimize the cost per hire.

1. Seventy-four percent of employers rely on referrals for influencing new blood into the company. Of those, 92% offer cash incentives, which go as high as $2,500. (SHRM)

2. A referral makes a candidate 18X more likely to be hired. (CareerPlug)

3. For 67% of recruiters, referrals minimize their time to fill. And for 51%, it lowered hiring costs. (The Undercover Recruiter)

4. Nearly 90% of employers believe referrals are the best source for above-average job applicants. (Dr. John Sullivan Research)

5. Three-quarters of hiring managers agree it is much easier to attract candidates familiar with the organization beforehand. (LinkedIn)
Employee training
Training employees has become necessary in the past decade. It helps companies enhance the skills, knowledge, and capabilities of employees for doing a particular job. Training helps mold their thinking, resulting in quality employee performance.
1. A whopping 87% of millennials rate "professional or career growth and development opportunities" as important to them in a job. (Gallup)

2. Fifty-nine percent of millennials agree development opportunities are extremely important when deciding whether to apply for a vacancy. (Gallup)

3. Forty percent of employees are satisfied with their job-specific training and consider them very important. (SHRM)

4. Seventy-six percent of millennials agree professional development opportunities are one of the essential parameters of company culture. (Execu-Search)

5. Fifty-nine percent of employees invest in their own upskilling - to a certain extent. (HR Dive)

6. Ninety-four percent of employees are willing to stay at a company longer if it is invested in helping them learn. (LinkedIn)

7. Seventy-six percent of professionals believe that a company would be more appealing if it offered additional training for developing their skills. (Axonify)
Over to you
One of the barriers to well-paying jobs in the recent past has been inflated degree requirements. The reset in hiring processes is crucial as it increases equity in the labor market and allows talented professionals to grab job opportunities that were previously restricted based on degrees. Plus, companies are better able to fill jobs that need to be filled with quality talent. Everyone wins.