10 High Volume Recruiting Strategies For Your Business
High-volume recruitment is a brilliant tool for hiring lots of talented people at scale. Let us find out the best way to leverage this technique: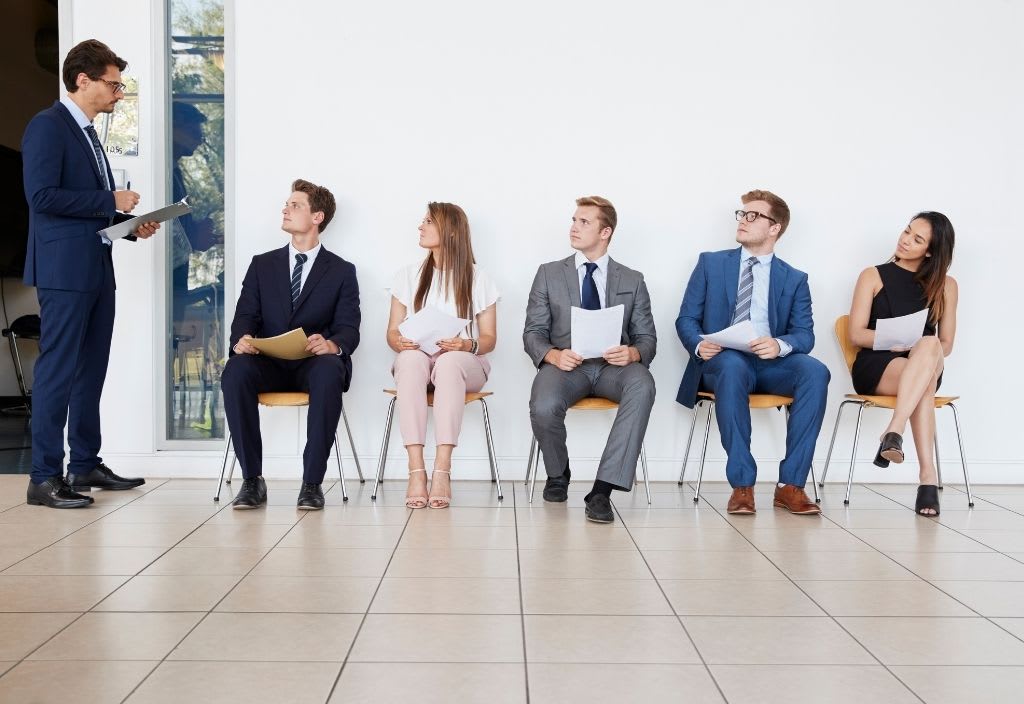 Recruiting any number of candidates is challenging. It is costly and time-consuming. Research shows that the cost of a lost employee is anywhere from thousands of dollars to 1.5-2.0X an employee's annual salary.
What is worse — the attrition rate has increased dramatically. A few years ago, it was at about 25%. In 2020, it took a massive leap, reaching an astonishing 57.3%!
Therefore, it is crucial to source the right person for the right job, even if you hire one professional or hundreds of them. However, when you receive hundreds of applicants for a job vacancy, it can be overwhelming to identify qualified profiles.
Thankfully, technology has transformed the recruitment process — from mere manual CV screening and phone interviews to savvy candidate selection. Automating the hiring process through intelligent tools makes high-volume recruitment simpler and quicker.
What is high volume recruiting?
It is a process that involves hiring the necessary number of employees to accommodate business growth. However, high-volume recruiting does not refer to a specific number, as it may vary as per company/team requirements.
It usually occurs when a business has exponential growth or needs additional workers for increased seasonal business during holidays.
High volume hiring vs. Regular recruiting
As explained before, high-volume recruiting involves filling many jobs at once. However, in a traditional or regular recruiting strategy, you may only hire for one or a few positions. That process can be lengthy as it is not an immediate requirement. In many cases, you can help existing employees fill gaps until you find the right people for the job.
How does high volume recruitment help companies?
1. Better preparation
Typically, businesses often spend close to 24 days filling one job role. Any deviation in the hiring process can take this timeline to four months. This also increases the cost-to-hire and workflow gap due to the unfilled position. High-volume hiring prevents this by helping companies stay prepared for when they need a new or additional workforce.
2. Time saved
The targeted headcount in high-volume recruiting may look overwhelming, but candidates and recruiters can engage better during volume hiring when strategized the right way.
3. Increased brand visibility
When a company does a recruitment drive of sorts, that automatically positions them favorably as they are seen as fast-growing. In fact, businesses with a higher headcount certainly have the advantage of attracting new clients and projects.
Challenges of high volume recruiting
1. Dealing with a time constraint
High-volume hiring involves sifting through a large number of applications. After reviewing them, you must conduct interviews on the phone or in-person before you shortlist candidates for the next steps. Completing the task manually consumes a lot of time and resources. Traditional hiring processes are not efficient for large-scale hiring.
2. Scaling up the recruitment team
The scaling phase is challenging for both the company and its recruiters. Your recruitment team has an additional responsibility to hire more workers for the growth period. Your processes may involve personally analyzing each individual and matching them to appropriate tasks. Achieving these goals is tough, or rather nearly impossible, through manual procedures.
3. Keeping the cost per hire low
Hiring an employee is expensive, and the charges amplify as you plan to hire a larger volume of talent. The cost of hiring includes the charges of posting on job boards, the time spent on reviewing applicants, and the expense of other screening procedures. The magnified costs of high-volume recruiting thereby increase the cost per hire.
4. Staying organized
Keeping track of candidates becomes tough as you handle thousands of resumes for each open position in your organization. You need to maintain a record of the stage of screening and all conversations with each candidate.
You may miss out on a perfectly fitting candidate in case you lose their record or make the mistake of overlooking them.
5. Offering a great candidate experience
A positive candidate experience is necessary to keep those who applied interested in working with your company. This includes everything from clear communication to a personalized approach to each interview.
You need to make candidates feel welcome and valued throughout the hiring process. These efforts should amplify in the case of high-volume recruiting.
10 high volume recruiting strategies and best practices
1. Define your ideal candidate
To ensure that you hire the best possible candidate for any position, it is essential to have precise job specifications. Defining the minimum experience or skill set requirements helps you shortlist candidates quickly.
You can list the expected personality traits, soft skills, or technical skills for each role and segment applications accordingly. Mentioning these eligibility requirements on the job listing makes your expectations clear to the applicants and makes it easier for them.
It helps save time from the first step for you and the applicants. Adopting this strategy ensures you receive applications matching your requirements and increases the efficiency of your mass hiring strategies. It also helps you maintain the quality of applications even though the number is significant.
2. Refine your employer brand
An excellent employer brand allows you to attract top-notch candidates, even during large-volume hiring. Candidates today thoroughly research the company before applying for a job and prefer being part of an employer that has more than just business appeal.
Therefore, it is essential to showcase your company values, mission, and culture to establish a strong brand. Specifically, redo the content (and, if possible, the design) of your About Us, Meet The Team, and Careers pages.
These may seem trivial but matter to candidates who want to understand your company's culture better. In addition, you can leverage social media and maintain an active blog to give potential employees an insight into your workspace.
Similarly, gather feedback and the perspective of all teams on the existing system to improve the hiring process and highlight your achievements to create a positive company image.
Having a strong employer brand will undoubtedly lure more high-quality candidates into applying for the opening with you. Creating a high-value candidate pool through this strategy helps you hire better as you close positions quickly and easily.
3. Diversify your sourcing strategy
There is no doubt that you cannot find hundreds of suitable applicants from just one platform. You have to explore various channels to build your talent pipeline. You can start by posting ads on job boards. Besides the popular sites, look for niche job portals based on your industry to attract and engage highly targeted candidates.
Get active on social media channels such as LinkedIn, Facebook, and Instagram to source candidates. Run paid campaigns to attract maximum applications. Lastly, get your employees to refer skilled professionals for your roles.
Such recruiter tactics are even more helpful when you want to reach out to more candidates in less time. Your employees know what you are like as a business and will have a stronger idea about an ideal fit for the role. Systematize the referral program to drive maximum participation from your existing workforce.
4. Engage your existing talent pool
With high-volume hiring, you tend to build an extensive database of past candidates over time. You have information about those who applied for a job at your company but were not a right fit for that position. They provide an excellent opportunity to fill up similar or alternate roles as they previously showed interest in your company.
Therefore, you must stay in touch with them through personalized emails and newsletters. The strategy helps you strengthen your employer brand. Using your CRM or ATS, you can reach out to these applicants for high-volume hiring.
Remember, if these candidates were not qualified for the position before, they might have now upskilled or gained relevant experience. Leveraging your database will help you reduce expenditure on job boards.
5. Create a seamless job application process
A lengthy application process may drive away potential new hires, according to Indeed. With easy access to mobile devices, more candidates use smartphones to search and apply for relevant job openings.
High-quality candidates abandon applications that need them to re-enter information already shared on their resumes. You must, therefore, consider all the abandoned applications as lost opportunities to hire the right candidate for the role.
Redundant processes such as creating a dedicated login, manually uploading personal details and resume, typing in a cover letter, and so on can turn away potential hires. Moreover, it hampers your employer brand.
You must make the application procedure seamless and integrate an ATS to keep track of all applications. A digitally-enabled mass hiring ecosystem makes high-volume recruiting convenient for both recruiters and candidates.
Using chatbots on your website or Careers page allows candidates to get the answers they seek quickly. Other than this, you must proactively share information on hiring timelines, application status, and outcomes on all platforms where you advertise.
You can also send relevant communication that may be interesting for prospective candidates, such as employee perspectives, recent activities, and company updates.
6. Optimize your job page for conversions
SEO is crucial for getting people interested in your company, even when you are hiring. Your job listing should be visible to prospective hires when they are searching for a similar role. You can do so by making your job posting scannable by the search engines or job portal algorithms to ensure it catches the eye of your ideal candidates.
Consider adding keywords and optimized content to your job description. These could be a designation, role-specific skills, or qualifications your targeted candidates may use for their job search. Doing so helps your job posting appear in search results against relevant keywords and rank higher on SERPs.
You may also want to create job descriptions with dynamic or interactive elements, such as videos or chats, to engage qualified candidates right away.
7. Employ Programmatic Job Advertising (PJA)
During high-volume recruiting, you need to expand your reach and ensure your job listing grabs the right eyes. PJA can help you get the job offer in front of potential candidates as it allows you to advertise jobs in an automated way using rules-based technology.
The goal is to publish highly relevant and effective job advertisements. It helps you connect with candidates who might be looking for jobs on local portals or in places other than the most popular job boards.
Employing PJA ensures relevant resumes are distributed at scale via an automated machine-driven approach by following the preset rules. The process is said to result in more successful hires for large-scale recruiting.
8. Implement the right candidate selection platform
It is extremely time-consuming to screen hundreds of resumes in high-volume recruiting, not to mention mind-numbing for recruiters. You would also be wasting time skimming through unqualified resumes.
Therefore, deploy an AI-based candidate selection solution to screen resumes and disqualify the unsuitable ones based on the criteria you have set. In this way, you will more quickly filter in those applicants who tick all the boxes.
The right platform can save you time and energy by automating parts of your process. It is beneficial in high-volume hiring as recruiters do not have to spend hours sourcing candidates one-by-one.
Structure your next screening steps so that they are equal for every applicant. Utilizing pre-employment assessment software helps automatically match the skill set and qualifications with roles available at your company.
9. Track your time-to-hire
Time-to-hire is one of the critical metrics that indicate how well your hiring team is performing. A longer mass hiring duration means expensive hires, while the best candidates may lose interest in the opportunity.
As per the Robert Half report, 57% of candidates find long hiring cycles the most frustrating ones. The percentage is huge for high-volume recruitments.
Tech-enabled recruitment solutions improve the hiring process by helping you keep track of the status of each application and allow you to move it to the next stage as soon as possible.
10. Keep hiring biases at bay
Recruiters can easily slip into the trap of hiring bias. Though unintended, preferences tend to impact human decision-making in almost all fields. Hiring bias cannot be avoided entirely, even if you use AI to help with the initial screening.
You should understand that algorithms are based on previous human decisions and thus will also replicate the biases. To avoid hiring biases to the best possible level, you must consider blind hiring, skill assessments, and data-backed hiring processes.
Setting up a transparent mass hiring process helps hire the best candidates for the job without any biases. You must train your recruiters on diversity and inclusion and lay a consistent hiring process that is discrimination-free.
Over to you
Technology makes it easier and convenient for you to fulfill mass hiring requirements for your company. You can connect with thousands of individuals using a well-crafted recruitment strategy and a seamless hiring process rather conveniently.
Using the right tools can make even the most challenging high-volume recruiting system engaging for both you and your candidates.