Pre-Employment Testing: The Easy Guide for Beginners
Pre-employment assessments are an objective way for determining cognitive abilities, work skills, knowledge, physical and motor abilities, etc. Pre-employment tests have become increasingly popular as a way to filter and manage large applicant pools.
The foundation of any high-performance business relies on the quality of its talent. Since the term "war for talent" was coined over two decades ago, the talent pool has changed completely. The cost of a bad hire can range from the decline in productivity, damage to morale, diminished customer satisfaction to poor work quality.
Hiring managers understand that having the best available pool of applicants for every open position is essential to finding the right hire. Pre-employment testing can give recruiters and hiring managers a competitive advantage in today's ultra-competitive job market. Also, candidates who are hired on merit, rather than their background, tend to stay longer and perform much better over the long term.
What are pre-employment tests?
Pre-employment assessments are a standardized and objective way for determining cognitive abilities, work skills, knowledge, physical and motor abilities, personality, emotional intelligence, language proficiency, and even the integrity of a candidate during the hiring process. Pre-employment tests have become increasingly popular as a way to filter and manage large applicant pools and help businesses optimize their recruitment processes. With recruiters spending 5 -7 seconds reading each resume they don't get to thoroughly review every candidate's application. Hence pre-employment assessments can provide tremendous value for organizations seeking to find the right hire for the position.
Why use pre-employment assessments?
Pre-employment assessments offer numerous benefits that not only help in streamlining the hiring process but also strengthen an entire organization by increasing the likelihood that new employees will be successful in their positions as well as reducing the cost of employee turnover.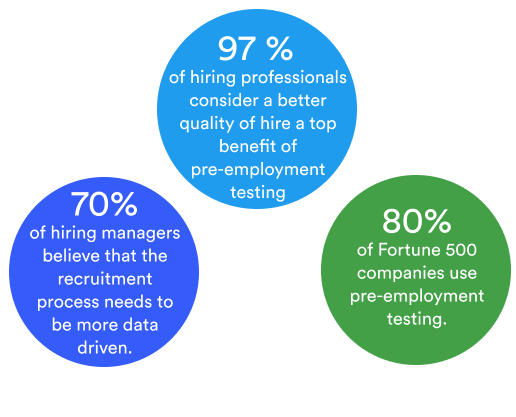 The most significant benefits an organization may experience by implementing an effective employee testing solution include the following.
Increase in Productivity
Having insightful and objective data helps a recruiter to identify the candidates who are most likely to excel on the job. This leads to tangible improvements in the productivity and effectiveness of all your employees. Pre-employment assessments provide recruiters/hiring managers with validated and predictive metrics about every candidate that leads to success.
Efficient hiring process
Time is money. On average, a recruiter spends 5-7 seconds reading each resume. The internet age has made it much easier for aspiring applicants to apply to more positions in less time, thereby increasing the number of applicants you get for each job posting. This does not necessarily mean an increase in the quality of applicants. Pre-employment testing can streamline a company's hiring process, particularly when testing is used early in the process to screen candidates. This approach is more efficient in identifying high-quality candidates.
Increased Employee Retention
Hiring the right candidate for a job role in the first attempt helps in reducing the cost of hiring and training. The right candidate will have the aptitude and the personality for a job and is less likely to leave. The reduced turnover rate can positively affect the company's reputation, making it more attractive to applicants.
Improved Performance and Productivity
Simulation-based pre-employment assessments offer the highest accuracy in predicting future job performance and productivity of a candidate in a real-world scenario. Companies can now implement real job scenarios to predict a candidate's long-term success on the job.
Decrease in Bias
A pre-employment assessment ensures that every candidate is screened with exactly the same situations, questions, and tests. Such tests measure and present data based on their actions and answers and then analyzing the data – in exactly the same way for each candidate.
Types of pre-employment assessments
There are various types of pre-employment tests organizations can choose from, depending on the metric to be tested. Some tests are designed to test a candidate's physical abilities or mental prowess. Some tests help to identify if a candidate is capable of conforming to a set of behavioral expectations. All such tests can be clubbed into 3 categories:
Background Check:
Background checks help organizations verify a candidate's background. These are usually handled by third-party companies to check for a candidate's employment history and criminal records.
Drug Screening & Physical Tests:
Such tests are used to determine the presence or absence of specified drugs in candidates. Urine and saliva testing are the most common methods for conducting these tests. Physical Ability tests measure the physical fitness of a candidate to do certain types of jobs.
Job-Knowledge Tests:
These tests assess levels of skill-based technical competency, cognitive abilities, and mental attitudes towards performance. Technical skills, Cognitive skills are the best examples of Job-knowledge tests.
Pre-employment testing can be further classified into various other types such as -
Skill Tests
Cognitive Tests
Personality Tests
Integrity Tests
Emotional intelligence tests
Background Checks
Drug Tests
Language Tests
Physical Ability tests
Job Sample Tests
Let us discuss the 5 types of frequently used pre-employment assessments.
Cognitive aptitude tests
Cognitive aptitude tests are used to measure general intelligence, that is, a candidate's ability to think critically, solve problems, learn new skills, and to digest and apply new information. Scores of such tests provide recruiters with a metric that is significantly more predictive of future job performance than other hiring tests. Such a test helps in identifying candidates who may be overlooked based on their resume but demonstrate high-potential in the long term.
Personality Tests
Personality assessments are the most commonly used tests to screen candidates based on certain personality traits that are relevant to the job. Employers usually test the candidates on the Big Five personality traits, which many researchers and industrial-organizational (I/O) psychologists believe are the five core personality traits.
Each of the Big Five personality traits represents a range between two extremes and are relatively stable during a person's lifetime. Personality tests measure how "fit" a candidate is based on his/her personality for a job role.
Apart from testing for the Big Five personalities, candidates can also be tested to assess their personality types. This includes categorizing a candidate's personality based on the Myers and Brigg's 16 personality types. It is less advisable to use such tests to make hiring decisions.
Integrity Tests
Integrity tests are used to evaluate candidates on honesty, integrity, reliability, rule-adherence and if they are likely to indulge in theft, fraud or absenteeism. Such tests are used while hiring for jobs that have stringent safety policies or where following rules is critical.
Skills Tests
A skills test is an assessment used to provide an unbiased, objective and a validated evaluation of a candidate's ability to perform the duties listed in the job description. A good skill assessment includes questions that will help recruiters evaluate whether a candidate has the required knowledge to perform on-the-job tasks (such as working experinence with Java, Python, etc.) and is capable of accurately measuring key performance metrics. The format of skills test can either be an offline evaluation or an online code sharing test.
Physical Ability Tests
Physical ability tests are used to assess a candidate's strength and endurance. Such tests are only relevant where the job role demands significant physical exertion.
How to choose a pre-employment assessment?
Below are the important elements to consider while choosing the type of pre-employment assessment to add to your existing hiring funnel.
Research your vendors and their products.
Define your objectives to test.
Keep the candidate experience in mind.
Define how much to test and when to test.
🌟 Extra Resources 🌟
🔥 Hot-Tip: Read our in-depth ultimate guide to pre-employment testing to know the A-Z of pre-employment assessments and how to check the employability of candidates.
💡 Pro-Tip: To know more about the different pre-employment assessment tools available, read our 52 Pre-Employment Assessment Tools compared (updated 2021).
💡 Pro-Tip: To know why online proctoring is important when adopting skill evaluation platforms, read our ultimate guide on Online Remote Proctoring.
To take your hiring efforts to the next level, read more about the different use-cases with which you can use Adaface.
Adaface provides 700+ assessments on more than 30+ languages to screen candidates for you. See candidate reviews at our wall of love ❤️.